La Wikiarte casa d'aste nasce nel 2021 in Galleria Falcone e Borsellino 2/D nel cuore pulsante di Bologna, per iniziativa di Deborah Petroni e Rubens Fogacci, galleristi dall'esperienza pluridecennale, titolari dell'omonima Galleria d'Arte Contemporanea "Wikiarte". La Wikiarte, frutto di una genuina passione per l'arte, si propone di dare assistenza ai clienti nella vendita e nell'acquisto di una vasta scelta di oggetti d'arte e da collezione di ogni epoca e provenienza: dipinti, sculture, ceramiche, porcellane, maioliche, borse, grafiche, argenti, bronzi, orologi, gioielli, arredi completi e successioni ereditarie. Gli appuntamenti d'asta, che si terranno con cadenza quadrimestrale per garantirne la qualità, affiancheranno il lavoro della Galleria d'Arte, costituendone il nuovo fulcro dell'attività della Wikiarte. Le Aste inizialmente si terranno on-line ma gli oggetti saranno visibili nei giorni precedenti presso la sede previo appuntamento. Oltre all'organizzazione delle aste, la Wikiarte casa d'aste si occupa anche della vendita diretta. La competenza e la serietà, dimostrate in tanti anni di felice presenza nel mercato dell'arte contemporanea, unite ad uno spiccato gusto per il "bello", garantiscono quel rapporto di fiducia con la clientela, che rappresenta per la Wikiarte Casa d'Aste il patrimonio più grande.
The Wikiarte auction house was born in 2021 in Galleria Falcone e Borsellino 2 / D in the beating heart of Bologna, on the initiative of Deborah Petroni and Rubens Fogacci, gallery owners with decades of experience, owners of the "Wikiarte" Contemporary Art Gallery. Wikiarte, born with a genuine passion for art, aims to assist customers in the sale and purchase of a wide selection of art and collectible objects from all periods and origins: paintings, sculptures, ceramics, porcelain, majolica, bags, graphics, silver, bronzes, watches, jewels, complete furnishings and hereditary successions. The auction appointments will be held every four months to ensure quality and will support the work of the Gallery in order to become the new hub of Wikiarte's activity. The auctions will initially take place online but the objects will be visible in the previous days at the venue by appointment. In addition to organizing auctions, the Wikiarte auction house also deals with direct sales. The competence and reliability, showed in many years of flourishing presence in the contemporary art market combined with a precious taste for "beauty", guarantee a relationship of trust with customers, which represents the greatest asset for Wikiarte Casa d'Aste.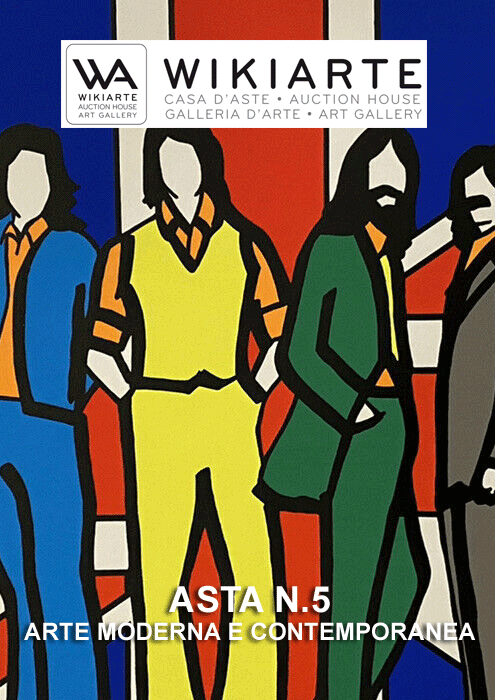 ASTA 5 - ARTE MODERNA E CONTEMPORANEA
Wikiarte Casa d'Aste è lieta di annunciare la quinta asta di arte moderna e contemporanea.
On-line Sabato 06 maggio, ore 10.00