DIPARTIMENTO DI ARTE MODERNA E CONTEMPORANEA
Il dipartimento di Arte Moderna e Contemporanea è curato da specialisti con esperienza decennale e competenze nel campo specifico del mercato dell'arte. Lo staff di esperti garantisce una sempre aggiornata ed accurata selezione delle opere, condensando nelle proposte puntuale attenzione per quel che concerne autenticità, provenienza e conservazione, con l'obiettivo di una sempre maggior valorizzazione delle correnti artistiche che vengono portate all' incanto.
L' arte è veicolo per interpretare il mondo e i suoi cambiamenti, nell' epoca della riproducibilità tecnica e dell'effimero l'obiettivo è quello di ricreare una cultura estetica attraverso i capolavori dell'epoca moderna e della più recente contemporaneità.
The Department of Modern and Contemporary Art is managed by specialists with decades of experience and skills in the specific field of the art market. The staff of experts guarantees an always up-to-date and accurate selection of the works, condensing in the proposals careful attention to what concerns authenticity, origin and conservation, with the aim of increasing the value of the artistic currents that are brought to the enchantment. Art is a vehicle for interpreting the world and its changes, in the era of technical reproducibility and the ephemeral the goal is to recreate an aesthetic culture through the masterpieces of the modern era and the more recent contemporaneity.
ASTA 5 - ARTE MODERNA E CONTEMPORANEA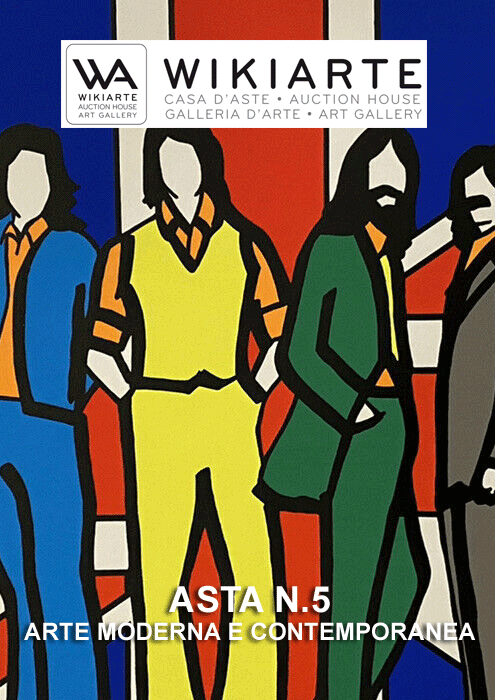 Wikiarte Casa d'Aste è lieta di annunciare la quinta asta di arte moderna e contemporanea.
On-line 
Sabato 06 maggio, ore 10.00